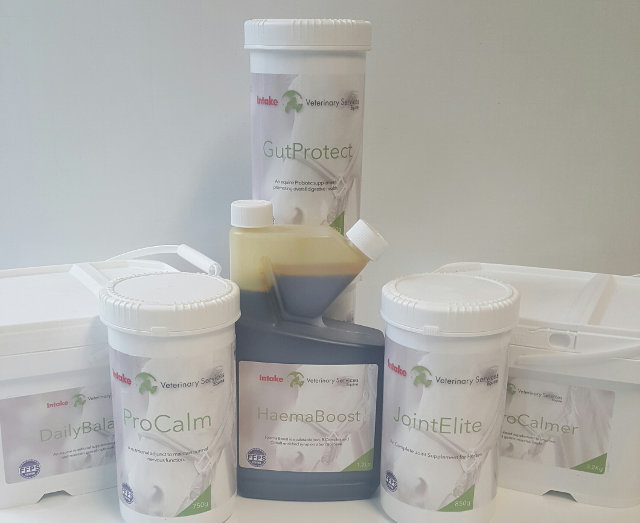 New Supplement Range.
Intake Veterinary Services have just released a new product range designed with industry specialists Vestaplas to try and make your supplement choices as easy and cost effective as possible. All of our products are independently tested and licensed so you can be assured that our products contain the exact amounts of ingredients and active substances listed.
There are 3 main product guarantees:
All of our products are FEI and competition legal.
There is a 100% palatability refund. If your horse does not eat our supplements we will refund the full cost.
Both the ingredients and the products are analysed independently to guarantee the qualities and quantities of the overall supplement. All ingredients are also 100% traceable. Many of the other nutraceuticals on the market have no guarantee of the ingredients contained in their products.
MuscleBoost
MuscleBoost is a Complementary Feed for horses containing a high concentration of Amino Acids, as well as the important antioxidant Vitamin E.
The amino acids derive primarily from a pea protein isolated by selective precipitation. Amino acids are essential for the formation of muscles through protein synthesis, and supplementary feeding is particularly important to maintain and improve muscle mass during periods of intensive exercise or competition, during rehabilitation following injury, for underdeveloped horses, and during periods of pre-training or sales preparation. Vitamin E is a fat soluble antioxidant which protects muscle cells from the damaging effect of free radicals.
MuscleBoost should be added to the normal feed ration. It should preferentially be fed in the afternoon/evening feed, after the daily training/exercise.
For Maintenance of normal muscle mass - Feed 50g daily
During periods of pre-training and sales preparation - Feed 50g daily
During rehabilitation - Feed 50g daily
During intensive training or competition - Feed 100g daily
JointElite
JointElite has been designed specifically for the nutritional maintenance of healthy cartilage and to help with overall joint recovery after impact. This product contains only 5 sole ingredients: Glucosamine HCL 99% pure (the only glucosamine product proven to have any effect within the joint capsule), Chondroitin Sulphate, Hyaluronic acid, Methsulphonylmethane (MSM) and Boswellia Serrata. This concentrated blend of ingredients makes this product highly effective for veterinary use.
GastroCalmer
We primarily use this product to aid in the treatment and management of those horses diagnosed or at risk of gastric ulceration. The unique formula of prebiotics, amino acids, seaweed and specific minerals are necessary to aid in the recovery and maintenance of a healthy digestive tract.
Calcium and magnesium – are used to reduce acidity in the stomach and provide a buffering effect for approximately 6-8 hours.
Sodium Alginate – provides a foamy layer to reduce the amount of acid splash within the stomach.
Kaolin binder – added to slow the passage of food through the stomach and aid healthy digestion.
Prebiotics – used to help aid any gastrointestinal tract disturbances, most commonly diarrhoea.
DailyBalance
DailyBalance has been designed to be a complimentary supplement to aid horses recovering from illness, those on weight loss diets or those in full time performance or competition work. The aim is to promote and maintain overall holistic optimum health and due to its minimal dextrose content it's perfect for use in those animals on a calorie controlled diet i.e. laminitics.
ProCalm
ProCalm has been designed to aid normal nervous function in times of increased stress or anxiety. ProCalm also contains a Probiotic to help with stress induced diarrhoea. The main ingredients are L-Tryptophan which is proven to reduce stress in 40% of horse and chelated magnesium which works in 25% of horses. Therefore the combination of these two ingredients will give the best chance of effectively calming your horse. Ideally this product should be started approximately 7-8 days before the point of requirement, responses may vary if you have used calming products in the past. Please speak to one of us for more information.
GutProtect
This is primarily a probiotic based supplement containing SC45 – the only tested and proven probiotic for equines. Its palatable mint flavour means that there should be no issues in getting your horse to eat this product. We would recommend GutProtect to any horses recovering from surgery or those on extended courses of antibiotics to try and maintain overall gut health.
HaemaBoost
HaemaBoost is a premium iron enriched B vitamin syrup. Most competition horses will at some point require dietary supplementation of Vitamin B complexes and iron, as these nutrients are needed for red blood cell formation and important metabolic functions relating to exercise. HaemaBoost therefore ensures that their full athletic potential is expressed in competition. We also recommend HaemaBoost for any horses suffering from lethargy, post viral infections, use after surgery or any horses which have sustain excessive bleeding.